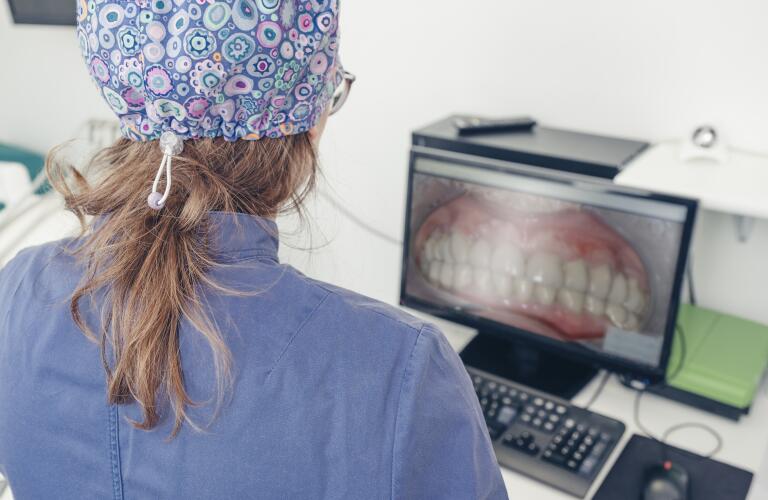 The coronavirus pandemic is changing the way people seek and receive medical and dental care. With shelter-in-place orders and social distancing guidelines in place, visiting the dental office now is not an easy task. In fact, on March 16, the American Dental Association recommended that dentists restrict all appointments to urgent and emergency care only through April 30 at the earliest.
With many states now taking steps to reopen the economy, including dental offices, get information about regular dental checkups, urgent or emergency dental visits, telehealth dental visits, and what types of dental conditions can be treated in each type of appointment.
Routine dental visits may be postponed.
As states find their way to reopening their economies, many continue to implement, or at least recommend, social distancing protocols. Under these guidelines, the U.S. Centers for Disease Control and Prevention advises that each person stays at least 6 feet from other people and to avoid gathering in groups. As a result, be prepared for your dentist to postpone your regular 6-month checkup that usually includes one or more of the following treatments:
Regular oral exams
Teeth cleaning
Routine X-rays
Fluoride treatments
Applying sealants
Urgent and emergency care remains available.
In the event you are suffering from severe tooth or gum pain, uncontrolled bleeding of the gums, or other severe dental ailments, it is possible for you to see your dentist for evaluation and treatment. Dental conditions that may require urgent or emergency care include:
Abscessed tooth with localized pain and swelling
Broken tooth resulting in dental pain or soft tissue trauma
Trauma involving facial bones
Replacement of temporary fillings
Final crown/bridge installation if the temporary one is lost, broken or causing irritation
Don't be surprised to find your dentist and dental assistants in personal protective equipment—beyond the disposable surgical face mask and gloves. They will likely be using N95 respirators (face masks that can filter out bacteria and viruses), gowns, and goggles or face shields.
See your dentist using telehealth.
A growing option for seeing your dentist, telehealth or teledentistry connects patients to dentists using a variety of technologies. These include videoconferencing; sharing health information through photographs, video or other records; and communicating through cell phones, tablets and personal digital assistants. Teledentistry services can address dental conditions ranging from oral exams to crooked teeth to initial urgent or emergency care.
These include:
Routine oral exams
Examining a toothache and prescribing medication
Diagnosing the source of bleeding or gum disease
Evaluating a broken tooth and scheduling a follow-up visit with a local dentist
Teledentistry must maintain patient-centered standards.
While there are several online services offering teledentistry in addition to a growing number of dental practices, it's imperative to seek out a service or dentist that has adopted specific patient-centered standards regarding patient care.
The American Dental Association has implemented its own recommendations for telehealth care and the state of California passed its own law in 2019—the first of its kind in the country—mandating teledentistry standards to ensure telehealth services mirror the level of care received in office.
A sample of these patient protection requirements include:
Inform the patient of the treating dentist's name, license number, and dental board contact information.
Review the patient's most recent X-rays prior to beginning orthodontic treatment.
A patient exam that includes a full medical and dental history, diagnosis, and treatment plan.
Recourse for patients to report subpar treatment to the dental board.
The delivery of services through teledentistry will follow evidence-based practice guidelines to the degree they are available.
Inform the patient of any costs they will be responsible for in advance of services.
All services will be documented with the records and documentation available to the patient.
The patient will be actively involved in all treatment decisions.
Good oral health is important for your overall health and wellness. Maintain or improve your own oral hygiene practices. Call your dentist if you have concerns. If you need or want a virtual visit and your dentist does not offer it, ask for a referral to one who does. Or, search online for telehealth dental services.